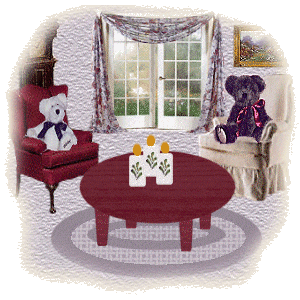 Bears used by permission of the Boyd's Collection
Terms of Use
Please have a seat for a minute or two
As I explain my rules to you
When starting these creations, I had no intention
Of setting down rules, but this I must mention
It's not fair to take work from someone else
Make minor changes, then claim for yourself
You may take any of my designs for your personal & web site use. 
I only ask that you provide a link back to my site. 
If you decide to use any of my graphics, please send me an e-mail
letting me know the url for the page you put it on. 
I would love to see how you used it.
Please download to your own hard drive & upload to your server.
Do not alter my images in any way. This includes re-sizing,
as making these images larger or smaller can cause 
distortion of the finished image. If you would like something 
made larger or smaller, please notify me by e-mail; 
I will be happy to do it for you.
If you decide to use any of my images,
please put the link to my site on the same page
so others know where to find them. Thank you.
I enjoy making these globes & animations & sharing them with others. 
However, I have spent too much time creating these designs to have
someone make small changes & then claim as their own.
I've seen this done with other graphics & also with tutorials.
Fortunately, most people do respect the rights of other artists. 
I have tried to provide links to all of the
sites where the original graphics were found. 
Any graphics marked with the letters JH (look carefully)
are my own personal items and creations.
None of my work is to be used for commercial purposes, 
on adult-related sites, distributed on CD's 
or claimed as your own personal work.
I have written to the Boyd's Collection for permission 
to use their wonderful bears on my site.
I am not affiliated with Boyd's nor is my site
designed to promote their products.
Special thanks to the Boyd's Collection
for permission to use their adorable bears.
Not all bears used in these creations are
part of the Boyd's Collection.
Visit the cute & cuddly Boyd's bears & collectibles at:
E-Mail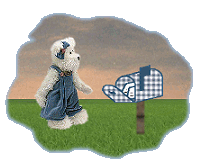 November 30, 2011.